f a dance club in Los Angeles can make it to its fifth anniversary, it deserves a bit of respect. If it's a rock 'n' roll club for men who dress in drag, it warrants a bid for the Guinness Book of World Records.
     When you think "diva" on the dance floor, you're not necessarily visualizing cross-dressers vamping it up to the sounds of Marilyn Manson or Death in Vegas, but that's exactly what makes Dragstrip 66 such a special place.
     The long-running Silver Lake drag club, which occurs the second Saturday of each month at Rudolpho's nightclub, hasn't lost its sizzle since it first began in January 1993 and now has visitors coming from as far away as Asia, Sweden and Australia.
     It's one thing to wish there were a club where people of all sexual persuasions could feel comfortable with one another, but to pull it off for five years seems unthinkable.
     Its promoters, who go by the monikers Mr. Dan and Paul V, credit a few factors. First, the location. Silver Lake brings together many different cultures, making it the ideal SoCal environment to create such a club. Then there's the clientele, a mixed and open-minded array of straight-up drag queens, those involved in the fetish scene and straight-not-narrow folks who come simply for the spectacle and fun.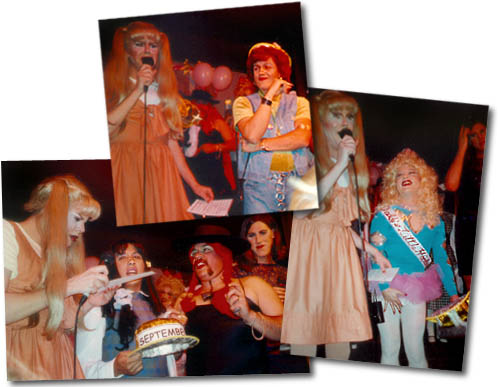 Pageant co-hostess Cinnamon 3 with "Kiddie Kween" contestants


     Each month, Mr. Dan, who hosts midnight pageants as his alter ego, Gina Lotriman, and Paul V, the club's deejay, concoct a theme that ties in to a cultural happening or offers a sendup of American kitsch culture. Some memorable themes include "Mars Needs Drag Queens," prompted by the possible discovery of ancient life via a meteorite from said planet, as well as "Barbie's Babydoll Sleepover," "Florence of Arabia," and last week's fifth anniversary "Little Miss Dragstrip Kiddie Kween Pageant," which encouraged potential stars to show up with their stage mothers. Among the judges were actress Ann Magnuson and drag actress Holly Woodlawn, who looked like a million bucks while performing "Going Out of My Head" and "Walk on the Wild Side," partially written for her by Lou Reed. The winners of the pageant were a trio decked out as Catholic schoolgirls--at least one of whom sported a three-day stubble.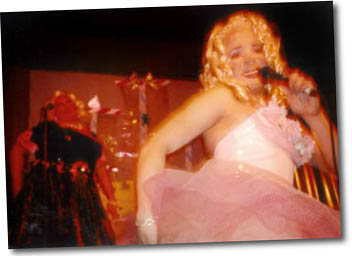 Momma coaches some hanky-panky with Miss Dragstrip 66 of 1995, Coco



     If you haven't laughed yet, then perhaps this isn't the club for you. But it is the club of choice for roughly 600 to 800 people who turn out each month to, well, turn it out.
     "I'm always blown away at the work and effort people put into their costumes," says Paul, who showed up in the deejay booth dressed as Baby Spice in January.
     Those who are mystified by drag culture need only to pop into Dragstrip, where they'll discover it's all about the fun of masquerade, allowing people to take on different personas. Rudolpho's, which already came equipped with an oil painting featuring Gloria Swanson and gaudy crystal chandeliers, adds the right backdrop to masquerade in.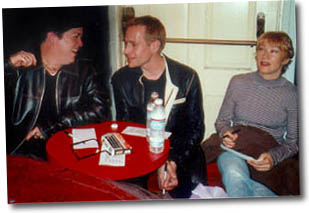 Dragstrip 66's fabulous celebrity judges - dyke comedian Lea Delaria,
actor Scott Thompson, and singer/actress Ann Magnuson
     "My biggest pride about this club is the diversity of the crowd," says Paul, who adds an unpredictable element by mixing the music up with vintage punk, '60s soul and '90s techno. "When they walk through the door, they're ready to become a part of what inevitably becomes an event. They're ready to let their hair down, so to speak."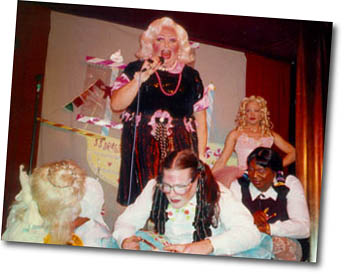 Momma and Gina Lotriman keep contestants in line!


     Big hair, bad hair, bald or teased, visually, Dragstrip 66 offers a veritable people-watcher's paradise--although it's more fun to be a participant. It's not unusual to find a burly, tattooed Latin man dressed in a dirndl dress and Heidi braids, hanging out with a shorn, pierced middle-aged guy clad head-to-toe in rubber. Or the nondescript computer nerd type escorting a towering diva in a racy blue sequined dress and June Carter Cash hair. In addition to the literal drag element, there's the "slacker" types, who trade in their T-shirts and jeans in exchange for a more glammed-up look.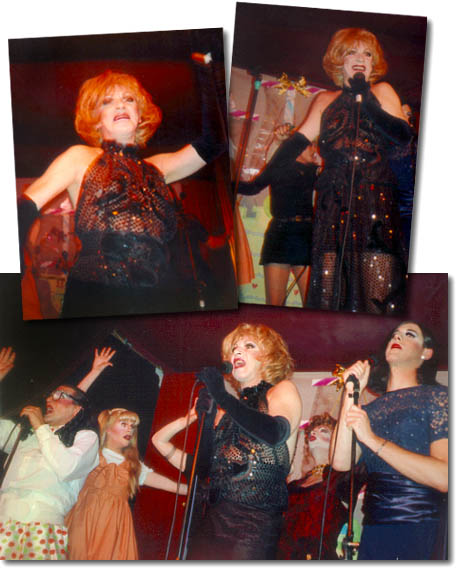 Holly Woodlawn belts out "Walk On The Wild Side" with the girls,
Gina Lotriman, Cinnamon 3, and Sharon Needles
     Now, visualize everyone dancing to Prodigy or Beck--who's popped in on occasion along with such celebs as Marilyn Manson, Nina Hagen and Drew Barrymore--and you get the picture. Well, you'll never really get the picture unless you make the trek, and the next chance to do so is Feb. 14, when Dragstrip 66 hosts its "St. Valentine's Day Bleeding Hearts Ball," which celebrates the birthday of club regular Divinity Fudge. FYI, wear a red dress and your heart on your sleeve, and pay less at the door.
     "We look at the club like a gifted child," says Mr. Dan. "We gave it life and now it's got a life of its own."

     BE THERE
     Dragstrip 66 at Rudolpho's, the second Saturday of each month, 2500 Riverside Drive, Silver Lake, (213) 969-2596. 21 and over, $15 cover, valet parking.
Copyright Los Angeles Times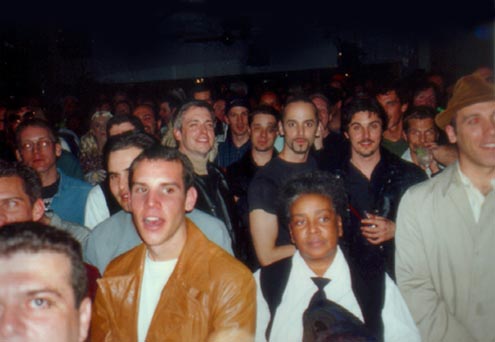 Shiny, happy patrons take it all in at Dragstrip 66!
Photos ©1997 SF/Endless